Frizzy hairs can be one of the most irritating things that a girl may experience in her life. This becomes worse if you have naturally curly hairs. Each one of us wants to be admired for our beauty and looks but what if all your efforts go in vain which you have put in for getting perfect hair look before going outside. It becomes so disheartening when you move out of your house with perfectly set hairs and it gets transformed into a mocking bird's nest when you see your reflection in some window just after 2 minutes. So, it is perfectly fine to have frizzy hairs as it is a very common condition which most of the people experience, you need not worry about this as we have come up with the smartest ways to handle this problem.
The major cause of frizzy hairs is dryness and damage. Dryness occurs due to lack of moisture and your excessive moisture from the atmosphere causes swelling of hairs and there it goes frizziness. And damage occurs when this continues for a longer period of time.
The problem of frizzy hairs appear due to the lack of proper hair care so, all you have to do is to provide the additional attention that your hairs demand. We surely aren't asking you to spend your wholesome money on buying expensive products and hair treatments. You just have to be insightful about what are the different causes of your frizzy hair and other homemade ingredients you require for dealing with this problem.
The 10 smart ways to tame frizzy hairs quickly are mentioned as following:
1.    Make use of a sulfate free shampoo
Usage of sulfate containing shampoos take away all the essential nutrients and oils from your hairs. Use sulfate free shampoo that provides nourishment to your hairs and scalp, restoration of shine and luster for your hairs.
2.    Do not miss the conditioning of your hairs
The damage-repairing becomes easier when you apply coconut cream with island rift nut extracts containing wheat proteins. Also, it helps in improving the resilience of your healthy looking hairs by making it more shiny and bouncy. Use a sulfate free conditioner and apply it after shampooing of hairs.
3.    Make use of drying hood
Every girl surely possesses a hair dryer which can be very damaging for our hairs. So it is always recommended to use a drying hood that is attached which has proven to be lesser damaging for the hair strands.
4.    Take special care for hair ends
To provide warmth to your hairs, the coconut oil should be applied in between the hair strands and then rub your hairs with hands by concentrating on your hair ends. To avoid greasiness of your hairs, you should keep your scalp clean. Proper oiling of your hairs will supplement your hairs with smoothness and give it a wonderful shiny appearance.
5.    Refrain from hairsprays that contain alcohol
It is very unfortunate that the most famous hairsprays that are also very expensive contain alcohol and the use of alcohol-containing hairsprays is one of the major reasons for frizziness of hairs.
6.    Silk pillowcase should be used
Instead of using a cotton pillowcase, you should use a silk pillowcase. It is because silk causes lesser breakage of hairs due to which you may experience another problem of split ends and provide a smoother surface. Use of a cotton pillowcase makes your hairs full of knots and bunching. The silk pillowcase is very beneficial in case you have brittle hairs and dryness.
7.   Different and unique hairstyles can be tried
The exposure to the sun can be very dangerous for your hairs. The damage is equal to the usage of chemical containing shampoos and other harmful products. Allow your hairs to dry in a natural way and form a short and lovely bun or you can also try a tight fishtail braid.
8.    Apply a wonderful hair mask to treat frizzy hairs
Not all people can afford costly treatments for hair damage from the beauty salons so as an alternative; one can simply try a natural ingredient containing a hair mask. All you need is three natural ingredients such as one ripened banana, I tablespoon honey and 2 tablespoons plain yogurt.
Mash the banana properly and mix all the other ingredients to form an even paste and apply it to your damp hairs. Leave this hair mask on your hairs for around 30 minutes and then rinse your hairs completely using shampoo and conditioner.
9.    Pre-shampoo your hairs before going for swimming
A treatment before shampooing your hairs involves the use of coconut milk for healthy growth of hairs and also, it provides protection to your hairs when you dive into a pool.
The coconut milk treatment has been very beneficial for your hairs as it nourishes your hair roots by providing strength to your hairs and also provides essential nutrients to your hairs. It reduces the hair fall and leads to healthy and smooth hairs.
Rosewater is also very beneficial for hair growth as it helps in conditioning your hairs in a natural way. It helps in improving the circulation of blood in hairs and promotes the revitalisation of your hairs by strengthening it naturally.
Lavender oil helps in enhancing the blood circulation and preventing loss of hairs.
To prepare the coconut milk treatment, you should use ingredients that are completely natural in nature such as the little amount of melted coconut oil, few drops of lavender oil and a full cup of rose water. Use a spray bottle for applying it onto your hairs.
Pour all the ingredients in the spray bottle and shake each time you use this on your hairs. Apply it on your damp hairs.
All the ingredients should be poured in one spray bottle.
All the ingredients should be shaken well in the spray bottle each time before applying.
When your hairs start getting damper, spray this hair mask on your hairs. Use a little amount of this mask and it can remain for a longer period of time on your hairs
10.    Do not wash your hairs with hot water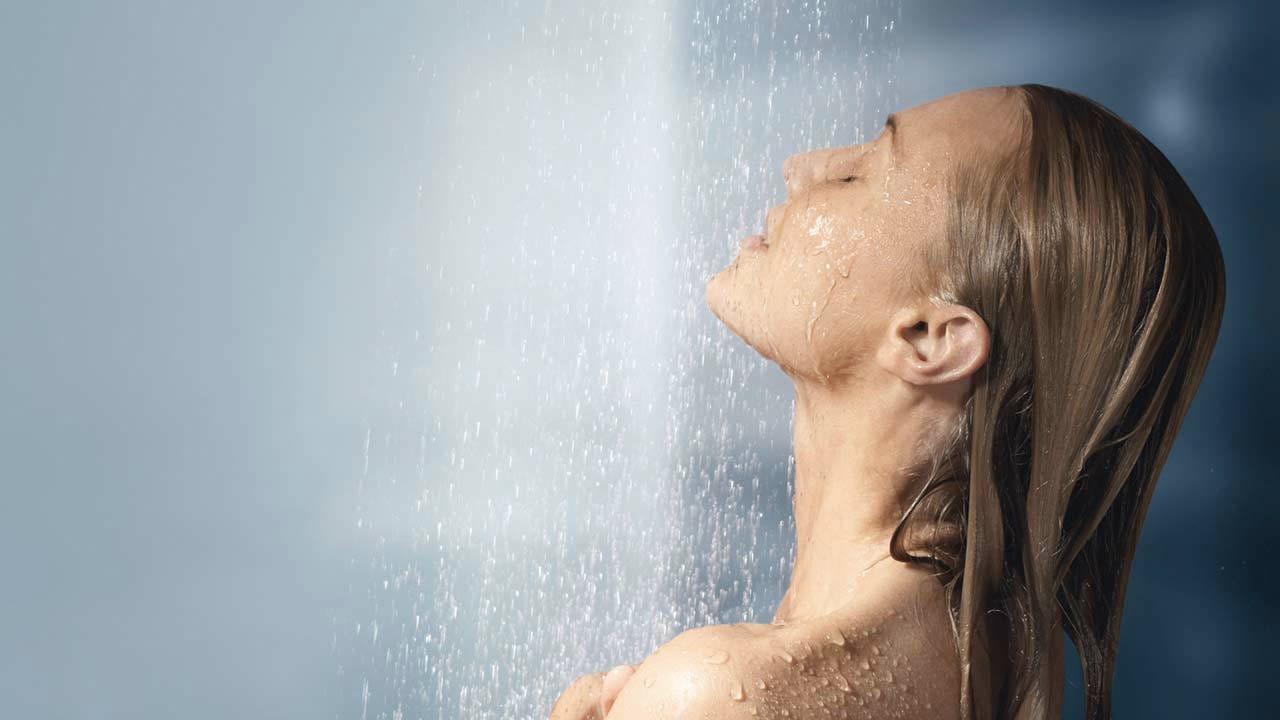 Using hot water can damage your hairs as heat makes the cuticle rising and causes frizzy hairs.
Therefore, you can follow these 10 smart methods to treat your frizzy hairs quickly without any inconvenience. Take good care of your hairs and make them strong and healthy.